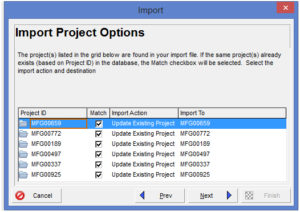 If you want to list up open end activities in primavera v6 and you can't find any option in p6. A simple way is exporting activity relation detail to excel and separate predecessor with only SS successor. But that is a too lengthy process because at times you don't know what formulas to apply in excel for fast working.  In excel one predecessor can have more than one successor. So you have to select predecessors with fully SS relation successors only.  Download are free to use schedule viewer. We have a project health check section which provides various checks including 'ACTIVITIES WITHOUT SUCCESSORS'
There is a checkbox under this section where you can include or exclude activities with SS successors only. You can then export the activities to excel.  Hope this would be of great help for you on your project. You can still contact our experts if you face any ambiguity on provided email addresses globally or contact the vendor who provided you with the software.
Here are some problems that you might face and we are giving a solution to it in advance so that our blogs could be of great help for you. If you use the above-mentioned schedule viewer, and if it proves to be good there might a problem arise that it shows activities without predecessors or successors. It might not show open end activities. Only showing milestone activities with no successors and predecessors, this might create a lot of confusion or ambiguity. The problem can be, your, not tagging the checkbox. Consider, start to logic as missing.
Done. The other problem can be how to export that list to excel. When you try to export the whole project is exporting. Well, that is a big issue but you need not worry. When all the project activities are exporting including those without successors but you just want to export the list , not the Gantt then what you need to do is after clicking export and the options box comes up , you ought to select 'expand to level  1' and uncheck or deselect the ' draw Gantt  option'.
Another problem that can arise is , what can be the formula or any other method for extracting  SS relation activities in excel. The solution is using the formula countif(). You could sum up the total number of successors for each activity ID and the subtract the number of SS successors.
Another problem can be with the registration code being invalid there can be multiple reasons for it but one that has been commonly witnessed is moving or copying the existing file if you have copied or moved the file, the new file would need it's own registration key. For the key that has been generated to you , you must use it for the existing file and not for any of new, moved or copied a file.