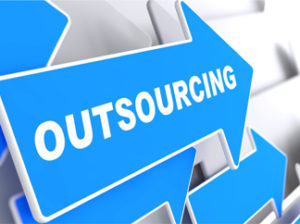 Before pursuing to the understanding of adding value to your business, first, we need to understand what is outsourcing.  According to our very own Wikipedia, this term refers to a practice used by different companies in which they transfer a portion of their work to different external companies, this is a cost effective way but the condition is, it should be used properly. The external sources or service providers ought to be Specialists in their related fields.
Leaders choose out-sourcing to enhance business value propositions to stake-holders.
The question arises how and why the need arises, some of the processes are temporary and the company does not intend to hire a professional for doing that task.
However, before that, it is necessary that you should think and study about all the advantages and disadvantages of giving the resources and time of your business to a third party vendor, which is indeed very critical for your business.
As every other strategy related to business, there are many pros and cons to outsourcing as well. If not done right, it can bring down your business and create a lot of unrest.
Famous outsourcing business streams may include,
Content development
Recruitment
Legal documentation
Legal outsourcing
Logistics etc.
Pros of outsourcing
Swiftness and expertise
Concentrating on core process
Risk sharing
Reduced operational costs
Reduced recruitment costs
Cons of outsourcing:
The disadvantages include:
Risk of exposure of confidential data
Hidden costs
Lack of customer focus
How it adds value to your business:
When outsourcing, making a strategy which is effective in lowering the cost is very important.
Project managers can help make one.  Considering this three part structure,
Assess the current state
Consider the "to be" state
Consider the governance require to sustain the future state
Project managers can avoid some common pitfalls in their outsourcing projects:
Add a legal team, consisting of procurement and legal outsourcing experts which will help you in making the agreements.
If you have any senior leaders around you, invite them to your project, in this way you can steer the initiative this will also help align it to the business mission.
Gather some leadership support from your seniors; they might help you abstain from committing some serious blunders.
The things that count should be on finger tips of a project manager while handling a process with outsourcing aspects. Leaders can capitalize business value by keeping the right things in mind and if the outsourcing is done with a defined end.
Just to get an idea, consider that Assessments can be made on few things, such as
Associate labor costs
Labor expertise
Value and non value support services
Baseline of operational measures and service levels.
Project managers can help in many ways make an outsourcing strategies that trigger capitalization.