Don't waste valuable resources on things that don't matter.
Drive Down Operation Costs: Save time, standardize, and focus resources
Every group or division within an organization is under pressure to prove their value to the organization. This is especially true for IT, where executives and managers are routinely required to do more with less.  At the same time, these same executives and managers are tasked with delivering the same level and quality of service to thgeir customers, while reducing the ever-expanding backlog of projects.
Prescient Solutions Group (PSG) is focused at delivering solutions that meet the demands facing organizations today. Don't struggle with slow decision making due to lack of information? Let PSG serve as your go-to technology partner with the expereince to help anticipate the trends that impact your business.  Prescient Solutions Group works to identify and and ultimately eliminate the business challenges effecting your organization.
IT Governance
IT organizations are faced with two critical problems: how to maximize ROI and how to demonstrate greater value to the businesses they serve. IT Governance can solve these challenges by aligning their goals with the business units they serve, and, at the same time, improving the delivery of projects and services.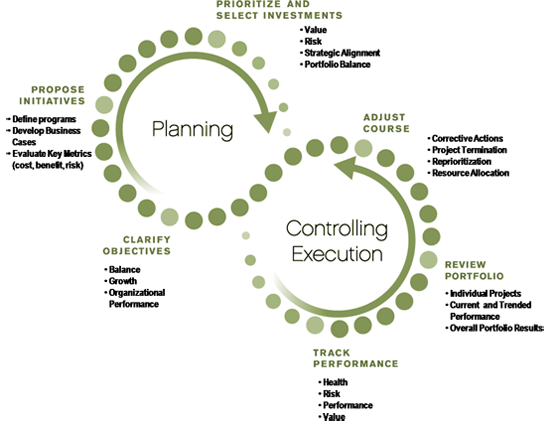 Oracle Primavera software when applied to ITG strengthen the relationship between IT and business through enhanced decision-making on IT services and efficiency improvements.
Oracle Primavera in ITG extends beyond traditional strategic portfolio management. It gives your IT organization a single system of record for comprehensive portfolio management.
Scalable, structured, and flexible. Primavera software utilized in IT helps build systematic Governance processes.
Informed IT decision-making leads to better alignment between IT and the business.
Best-practices, project execution and resource optimization lead to greater IT efficiency.
Minimumizing risks and ensuring end-user empowerment drives value in the organization.
Financial transparency is key for all IT services.