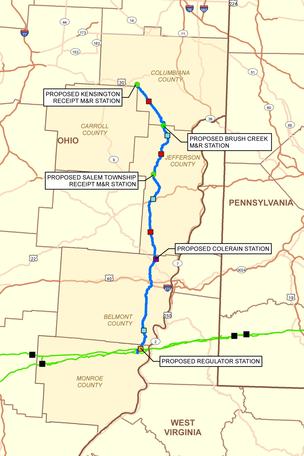 The Ohio to the Gulf Coast Oil & Gas Capital Project has meet Federal regulators approval.  Estimated at $468.5 million dollars the eastern Ohio pipeline project will transport natural gas from Ohio to the Gulf Coast.
Texas Eastern, a subsidiary of Houston-based Spectra Energy Corp. (NYSE:SE), in February lined up four companies to use its 76-mile long pipeline extension, however were awaiting final confirmation from the agency that oversees interstate pipelines.
Now, its Ohio Pipeline Energy Network– Open Project – which is stet to go forward. Houston-based Spectra hopes the project will be done fourth quarter of 2015.
As most projects of this nature it had to clear concerns and questions from environmental, landowner and government groups. The Federal Energy Regulatory Commission reviewed them and approved the project Tuesday December 2, 2014.
The pipeline will stretch from the Kensington processing plant in Columbiana County through Carroll, Jefferson and Belmont counties before ending in a Texas Eastern interconnection in Monroe County. Those four counties are where much of the Utica shale oil and gas activity is centered.
Texas Eastern is poised to build a gas turbine compressor station in Belmont County and make adjustments to existing compressor centers to allow bidirectional flow.  Primavera Project Management Software is anticipated to be utilized in the project controls for this project.  PSG Primavera Consultants is poised to support contractors engaged in this project and other Oil & Gas projects meet project requirements for less through its Contractor Compliance Program offering discounted Primavera software and related Primavera scheduling and project controls services.
The Ohio to the Gulf Coast Oil & Gas pipeline is among several of the new bidirectional pipelines are emerging in the Appalachia area. Natural gas traditionally flowed  from the Gulf Coast to the eastern U.S., However, with increased production from Ohio, Pennsylvania and West Virginia's shale deposits these states have began exporting natural gas instead of importing it.
The pipeline is anticipated to carry up to 550,000 dekatherms of gas from the Utica and Marcellus shales to delivery points at the Egan Hub in Louisiana.
Chesapeake Energy Corp. (NYSE:CHK), the most active gas producer in Ohio, notched the biggest commitment to pipeline earlier this year. Consol Energy (NYSE:CNX), Rice Energy (NYSE:RICE) and Total Gas & Power North America have also engaged in this initiative managed by Texas Eastern pipeline systems who have more than 9,200 miles of pipe across the U.S.