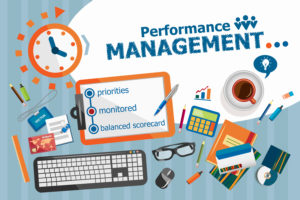 Performance management design concept. Typographic poster. Performance management concepts for web banner and printed materials.
A very crucial question that need to be pondered over is how does organizational performance management fit in. when talking about small startups, OPM main seem quite a big deal. But what if the organization is somewhere in between. On one hand you no more do all the logistics yourself on the other hand, there is still time when you will be cutting checks for a large number of employees.
For understanding how organizational performance management fit in, you first need to understand that OPM is a good thing. Relating strategy with implementation, making a strong link between strategies, how it is planned and then implemented in order to deliver on portfolio grounds. Also realize how important its value is.
Thing to keep in mind is OPM at scale is even better. If you don't scale OPM to where your organization is OPM may seem quite complex to you, even in try of attempting it. If you think OPM is a good thing don't waste a single moment trying it. It has been witnessed that the organizations that doesn't seem to care enough about OPM, witness a downfall in their businesses. At times teams get frustrated and at times the progress get halted. And the same answers are given by the leadership- work harder.
Performance management is a lot more than the appraisals given at the end of the year. It's about translating goals into outcomes, or results that are effective and has a huge progressive impact on the organization. It includes individual employees, teams, processes and the organization as a whole.
Effective PM will help you in nurturing individual performance, foster ongoing employees hence increasing overall organizational effectiveness.
OPM and strategic planning is closely related, here we will discuss how strategic planning has influenced private and public sector organizations. Indeed strategic planning is a crucial step in the management of any organization, regardless of at what level they reside. Public agencies have a greater challenge in evaluating their results. Whereas, private organizations have clear goals and results as the outcomes are closely related to the financial goals. Rapidly changing and increasing demands for programs, products and services and greater demands for accountability are the adequate reasons the public sector organizations have tend to opt strategic planning which leads to good organizational performance management as well as good results in overall progressive growth of the organization.Organizational PM helps in improving different levels.
How OPM can help?
Assessment of your existing performance appraisal system.
Development of performance plans in accordance with organization's missions and goals.
Writing elements and standards that involve measure of performance.
Pay for performance systems
Reward systems linked to your performance appraisal systems.
OPM mainly involves identifying the gaps in performance against the objectives of business, further recognizing where the gaps lie and deploying the improvements to close the gaps. Some of the key features are
Establish objectives, analyze process performance data, identify and implement improvement, implementation of improvements