3 DAYS COURSE
This training class utilizes P6 PPM, Primavera Client/Server Project Management tool.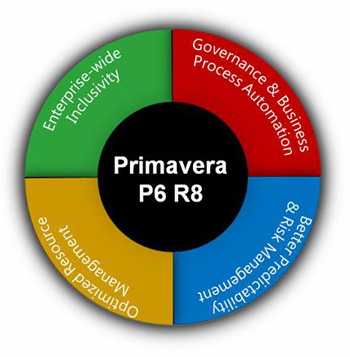 The class leads participants through the entire project life cycle, from planning projects through execution of detailed work. Students will learn to: add activities, assign resources, create baselines and much more on the core principles on project, schedule & cost. This Course Includes: All course material, software for use during training, 30 days login access to training platform. One-on-one follow-up, Mentoring and Certificate of training completion. Course Times: 9:00am to 4:30pm Local Time.
AUDIENCE: Construction & Engineering Professionals, Project Managers, Schedulers, Admin's
PREREQUISITE: Basic project management and scheduling knowledge. No previous experience working with Primavera software required
Suggested pre requisites include:
Knowledge of project management principles
COURSE OUTCOMES
Getting started Primavera P6 Professional
The Project Management Life-cycle
P6 user interface & navigation
Project Creation
Process Group
P6 interface and navigation
Enterprise Project Structures
Work Breakdown Structure (WBS)
Relationships and Constraints
Formatting Project Data
Resources & Costs
P6 Baselines
Reporting
P6 user interface and navigation
Customizing the P6 views and layouts
Monitoring and Controlling Process Group
Understanding the purpose of the Enterprise Project Structure
Modifying the Enterprise Project Structure
Creating a new project
Understanding the project status options
Modifying project settings
Creating and using project codes
Preparation of a best-practice WBS
Creating a WBS in P6
Modifying the WBS elements
Activity types and their importance in the schedule
Creating new activities
Creating and assigning activity codes
Relationship types in P6
Understanding Critical Path Method (CPM)
Applying constraints to activities
Adjusting the duration and finish date of your project
Using filters to control the data displayed
Creating resources
Assigning resources to activities
Working with the Resource Usage Profile
Mitigating resource overloads
Baselining P6 project schedules
Running reports from a layout
Creating and running reports using the reporting wizard
What will you learn?
This Primavera P6 Fundamentals training will teach you how to create a project, add activities and relationships, assign resources, adjust the project plan to account for schedule delays and over-allocated resources and analyze portfolios. You'll also learn how to customize the Personal Workspace and the Project Workspace to monitor project progress and communicate with team members.
Learn To:
Create a project.
Add activities.
Create relationships.
Assign and analyze resources.
Analyze project performance.
Execute and control the project.
Customize dashboards and the Project Workspace.
View reports etc.
4-Part Course Structure
This course uses P6, Primavera's Web-based project management tool. It is divided into four sections: Overview and Creating a Project, Scheduling the Project and Managing Data, Assigning different Resources and Base lining and Project Execution and Control.
Please Note
This course uses the P6 Web interface. Oracle BI and BPM are not covered in this course.