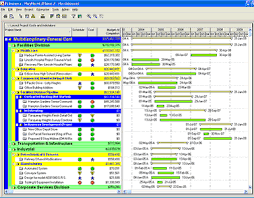 Before understanding primavera project planner, there is a dire need to understand modern day project management, with an effect of changing methods and workload dependencies in today's business projects. Modern project management can be understood by two things
Business-driven
Technology powered.
The organization which follows the modern day project management mechanism looks a lot more stabilized and progressive than those who are not following it. The enterprises have added a lot to their business value by converting their business models and functional models from old to new trends, which includes, following agile methods, in order to make your projects a big success.
The main factors that can be seen while following modern project management approach are,
Insight driven
Collaborative
People-centric
Ultra efficient
In control
Providing immediate project insight, what is needed, why and where they need it, questions like these, which are data driven and give your project competitive advantage. Understanding through it an example,a survey was conducted which indicated a demand for expedited financial information delivery, stakeholders wanted a robust insight into the financial details of the project and what tasks were carried out.
A culture of social project management has been created in the enterprises with this modern project management approach. Which results in better project results and successful outcomes are delivered by the team?
Understanding through an example, top priorities of CFO'S or CEO's is information sharing between the teammates.
MODERN DAY PROJECT MANAGEMENT LEADS ARE PROJECT DRIVEN AND TECHNOLOGY Powered which makes them more important for the enterprise the reason being their valuable strategic approach, which confirms the success rate of projects and reduces the risk of pitfalls.
The primavera project planner has these all capabilities, primavera enterprise project portfolio management improves enterprise performance. Primavera focuses on solutions that go beyond facilitating on time, within budget and scope. This is mainly because primavera portfolio project focuses on outcomes that derive C-level strategic metrics and results.
Primavera project planner provides an easy to use approach to project planning, the need of the hour. Its intuitive interface makes project planning and controlling easy as well as fun. And the good news, you don't have to sacrifice the powerful sophistication of high-end project management software that you may expect from us. The product can be referred as the multi-user that operates in a popular local area. It allows you to share data with other networks making it portable and easy to use.
As discussed several times, while planning through primavera software project portfolio management software whether it's P3, p6 or any of these, the main focus is laid on planning and control, a wide range of guides are available online in this regard.
The question arises why project managers only choose primavera project planner, the answer is simple, it gives them the control they need to accomplish their project on time. At the high level and quality of technical expertise and within budget. Which adds value