Primavera Unifier
Primavera Unifier & uDesigner Consultants

Prescient Solutions Group (PSG) is a leading provider of Oracle Primavera Professionals Services and Business Automation, our team has experience Implementing, Training and Process Modeling in Oracle Primavera Unifier, uDesigner (Formally Skire)
PSG's consultants support Primavera Unifier deployments onsite and remotely.
Oracle Primavera Unifier Services:

· Unifier Implementation, Business Processes Modeling, Workflows in uDesigner
· Training for Unifier Administration, End Users and uDesigner developers

· Administration of Business Process, Cost Manager, Schedule Manager

· Primavera Unifier support, setup and user permissions

PSG Services can be provided as blended On-shore / Offshore deployment methodology as require by client requirements.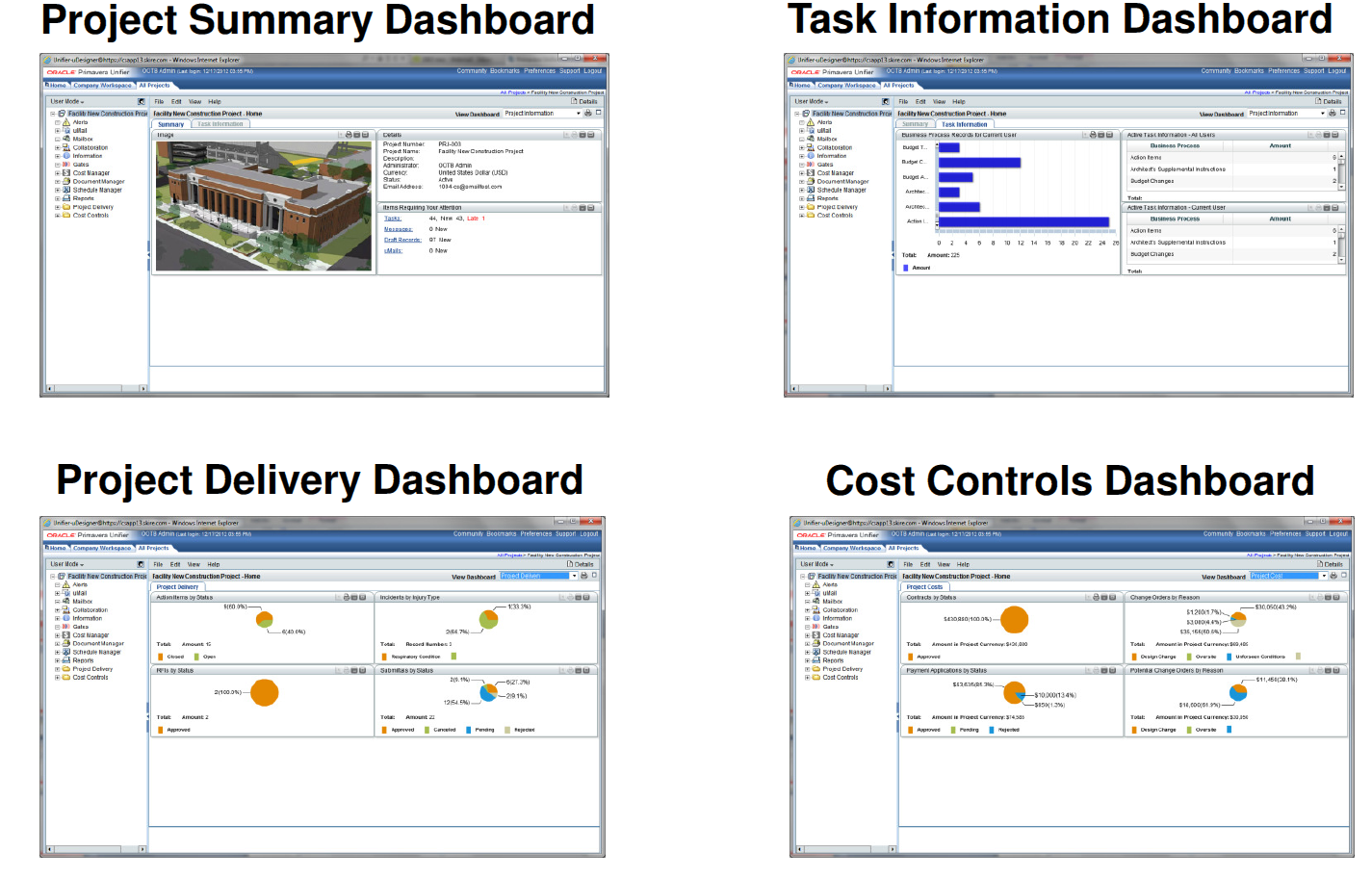 Primavera Unifier & Primavera Unifier Cloud Services
1. Primavera Unifier (On-Premise) – Traditional software licenses that you install in your own environment.

2. Primavera Unifier Cloud Service (Hosted) – A cloud service hosted & managed by Oracle on Oracle's servers.

Primavera Unifier's Web-based platform optimizes and integrates any business processes, corporate data or documents across an organization. Primavera Unifier's intuitive user interface can be tailored to any business to increase adoption, minimize training and accelerating time to value. Typical uses: employing prebuilt templates out of the box, building new business configurations, Primavera Unifier delivers the best combination and ease of use regardless of the size of your team.
White Paper - Primavera Unifier Integration Overview: A Web Services Integration Approach (PDF)
Primavera Unifier - System Requirments (PDF)

Primavera Unifier for Cost Control
Managing costs on a project by looking in the rear view mirror makes project controls a nearly impossible task. Yet, that is how many of today's capital projects are managed, whether done using spreadsheets, an ERP system or an internally developed solution. Being able to see pending costs in real-time with the ability to see all of the underlying and related causes, including the critical engineering information for immediate analysis, is the only way to ensure proper cost control.

Unifier's Cost Manager solves these problems and more. Whether you are executing multi-year capital programs, managing the construction of a single new facility, or managing a portfolio of IT projects, the Cost Manager delivers real-time visibility into the financial status of your projects or programs. All financial data — funding, budgets, commitments, appropriations, expenditures, etc. — are available in the cost sheet. You will have full confidence in the accuracy and timeliness of your forecasts, estimates and budget control.
The cost sheets employ a familiar spreadsheet-like interface, which can be tailored to match your existing standards. Define your own break- down structure, column definitions, formulas and labels. Drill down to individual records and transactions, even line items, from any source data, including critical engineering information and workflow history. Supplement the cost sheet with supporting worksheets and work packages. View project costs across the organization from program and company level cost sheets that collect and summary project data. Data sources include Unifier business processes, imports from spreadsheets, resource costs, manual entry, or via integration with your accounting system.
As you would expect from Unifier's integrated solutions, the cost manager works seamlessly with the funding manager, schedule manager, cash flow engine, portfolio manager, business processes, earned value calculations, resource manager, project gates and more. Unifier's overall Cost Manager solution also includes fully configurable schedule of values and Payment Application support.
Primaveara Unifier for Document Management & Collaboration
Having the most current documents readily available to all project participants is critical to driving efficiency and reduc- ing errors and omissions on projects. A robust audit trail of document changes reduces tension across project participants, decreases the risk of change orders and claims, and helps drive on-schedule and on-budget performance.

The Document Manager is part of Unifier's secure, web-based architecture, allowing superior local or worldwide col- laboration between project team members or across the organization. The system ensures that all members of your team are always working on the most current versions, and dramatically increases efficiencies by providing ready access to all documents from anywhere at any time.

Contract Management
Unifier's Contract Management solution addresses the unique challenges of capital construction. Purpose-built for the industry, it eliminates manual processes and has been proven to significantly streamline contract and change management procedures. Unifier helps you manage all of your contracts regardless of type, from simple material procurement to complex con- struction contracts. It captures all relevant contract details and supports subsequent processes for change management to put you in control. Invoicing can range anywhere from simplified line item billing to complex payment applications that track percent completion, retainage, stored materials and more. And with Unifier's Custom Print capabilities, you can even design and generate contract documents or invoices in which you can easily merge transaction details with organizational branding, terms and conditions or any other boiler plate information. With full vendor management capabilities, and unique functionality such as easy access and visibility of all related business process records, Unifier is a robust, intuitive and complete contract management solution.

The system uses a flexible folder structure to support the requirements of any type of project, and is governed by a detailed set of permissions that can be applied to entire folders or individual documents. Its embedded file viewer supports hundreds of file types, allowing viewing, edit- ing, storage, commenting, as well as powerful redline and markup capabilities, of virtually any type of document or drawing. In addition to basic features that you would expect from an enterprise document manager — check-in/check-out, lock/unlock, revision control, detailed audit logs, shortcuts to commonly used files and folders, robust reporting capabilities — Unifier's Document Manager also includes many advanced features, including tight integration with Unifier's market-leading business process and workflow engine, automatic storage of business process attachments into specific folders, email alerts, control of file access by project phase, drawing reference file management, and more.
Primavera Unifier for Cash Flow Management
Cash flow management is important for maintaining the financial integrity of a project. Project managers and execu- tives rely on accurate, comprehensive reporting and analysis of transactions and the ability to reliably forecast trends and risks. Spreadsheets are often the tool of choice for cash flow management, but are fraught with errors and data integrity issues, as well as many other limitations.
Unifier's advanced Cash Flow engine allows you to baseline budgets, track actual costs, and calculate reliable forecasts. Cash flow data is displayed both graphically as cash flow curves and in worksheet form for complete analysis. Because it is fully integrated with Unifier's business processes, cost sheets, schedule manager and portfolio manager, the cash flow engine can be configured to automatically pull actual project information for real-time display, eliminating errors
and delay that come from manual data entry. At the same time, the system is flexible enough to handle any custom curves you want to create through the intuitive interface, and enter your own values for analysis and comparison.

Cash flow calculations can be performed for entire projects, individual contracts – or even for specific cost codes. In addition, you can create sets of curves and compare them side-by-side in the cash flow worksheet. No other system combines the level of flexibility, intuitive interface and real-time project data to perform cash flow analysis the way Unifier can

Primavera Unifier for Bid & Procurement Management
Managing the construction bidding process is quite different from procuring office supplies, yet many organizations try to force fit such a solution using manual and offline processes. Unifier's Bid Management functionality replaces manual processes by providing a complete online solution that allows you to send bid invitations, receive and review bids, and maintain all bid information, submissions, attachments and communications with the rest of the project information, where they belong.
Bidders are provided with a simple, browser-based bidding form and an in-built communication feature that require no special training to use. Bid managers can communicate with bidders, review bids and compare them side-by-side, all within Unifier. The flexible solution can be used for open, public bidding or a closed process with select vendors.

The system also incorporates vendor management, including a master vendor list, business processes for vendor approval, and integration with existing vendor systems. Unifier provides a robust filter to make searches more efficient and less time consuming when sending bid invitations to a subset of relevant vendors such as by vendor type, MWBE status or any other factor.
Unifier's Bid Management solution makes the entire bidding process more efficient for all participants with many specialized features to adhere to various procurement principles and rules.
Oracle Website Link


Oracle Primavera Unifier®, formerly known as Skire Unifier, provides organizations a complete set of management and governance tools to manage their projects from planning to building through operations, allowing them to effectively manage capital and construction prjects and programs. Integrating Primavera Unifier with Oracle Primavera P6 EPPM companies are able to create a complete Enterprise Project Portfolio Management (EPPM) system for complete lifecycle management.

Oracle's Primavera Unifier presents a wide-ranging interface platform based on XML Web services to completely support interfacing with other client systems. The interface gives the ability of Primavera Unifier to communicate with practically all existing customer system. Consequently, information, business processes, workflows, budgets, internal transactions, user data and basically any information customers want to communicate—can be imported to, or exported from, Primavera Unifier through industry-standard Web services.

PSG's deployment, support & maintenance services are:
•Available 24x7 support for critical applications using the offshore delivery model
•Collaborative effort to support software solutions
•Thousands of hours of experience
•Services available for many buisness and mission critical applications, databases, EMC storage, batch process applications, business process applications, data warehousing and reporting tools.